---
2D Portable digital (dual frequency) eddy current testing instrument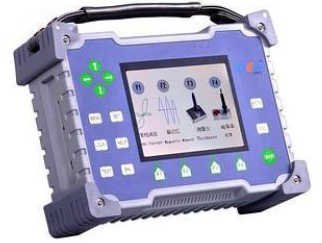 Introduce 2D Eddy Current:
2D is a ultra miniature digital , dual frequency eddy current testing instrument. It has small volume, light weight, High-Resolution colorful LCD, adjustable phase, gain and Test Frequency, applies to almost all the eddy current testing , and has English and chinese operating interface, can master the operation quickly.
2D can be realized fool-type operation, according to the detection ,the professionals can set the frequency, gain , phase and process parameters in advance. In actual tests, the operator can mixed with appropriate detection technology datas to detect.It doesn't need much time to trainn the operators before they are on work.
Features:
Big screen , high brightness colorful 5.7 inches TFT-LCD, work out the fault of the tradition single screen display. Independent dual frequency detection Intelligent and frequency mixing design Intelligent digital design, convenient operation According to user needs to provide professional testing programs It is expertly designed, reasonable design and simple to operate. Simple, real-time on-screen instructions, can be realized fool-type operation.
Applications:
Used for the detection of metallic spare part, tubes and pipes , welding seam and other metallic material.
Specifications:
Independent frequency detection No. : Two , one frequency mixing unit
Frequency range: 10 Hz ~ 10MHz
Gain: 0 dB ~ 99 dB, a wide gain adjustment;
Phase: 0 ~ 359 °, a flexible phase rotation;
Intelligent frequency mixing No. : one
Detection minimum Error: 0.01mm , has a high accuracy detection
Lift-off height:>3mm , There is no need to cover up/ deal with the surface
Fast digital electronic balance;
Phase / non-amplitude, box and fan boxes, alarm mode to meet your testing needs;
Probe Drive: 1 ~ 8, to meet different probe structures, the true sense of the multi-functional;
Independent X and Y gain adjustment
Digital Filtering: High-pass frequency (0Hz ~ 2000Hz), low-pass frequency (0Hz ~ 2000Hz)
USB 2.0 (Host) to connect to the output capacity
Eddy current testing signal playback, analysis, archiving, printing features
OS: Linux 2.6
Co-ordinate origin: X and Y can change
Operating Language: Chinese, English
Automatically display the calendar, time, battery capacity
Simple, real-time on-screen instructions
Power : 110V~220V
Online hotkey graphics, text, help.
Ambient temperature: -20 ° ~ 50
The built-in rechargeable of lithium battery : 8000mah
Coordinate system: Cartesian coordinates, polar coordinates
---
---