---
Eddy Current Conductivity Meter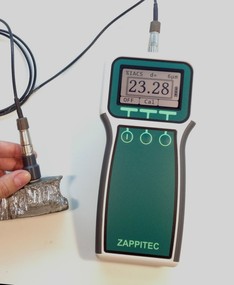 Main Features:
✓ Direct readings in %IACS
✓ 10mm diameter (8mm optional) sensor
✓ Non-contact measurement possible
✓ Automatic temperature compensation
✓ 4 × AA cells provide ~100 hours operation
✓ Easy to operate
✓ Lift-off compensation and readout
✓ High resolution LCD display
✓ Battery status shown on display
Zappitec is introducing the model 12Z Eddy Current Electrical Conductivity Meter for non-magnetic metals. The 12Z uses the latest technology to provide an instrument which is user-friendly and practical to measure electrical conductivity in the field. The instrument comes calibrated with traceable standards, providing reliable readings even when measuring rough surfaces.
Applications:
✓ Alloy sorting
✓ Conductivity measurement on 8mm copper rod (with 8 mm sensor)
✓ Heat treatment verification
✓ Aerospace maintenance
✓ Metal purity evaluation
✓ Quality control of raw materials or finished parts
✓ Coating thickness evaluation
---
Secondary content
News

The YXLON UX20 system for x-ray and CT inspections of medium to large cast parts makes your inspection tasks as easy as never before. Its exceptional inspection envelope allows for 2D and 3D results in record time.
---