---
NEW Surfix Pro X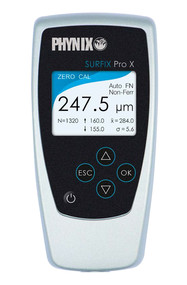 Application areas:
Electroplating
Paint shops
Automotive industry
Chemical industry
Aerospace industry
Ship building industry
Tyre industry
Quality management and final inspections
Laboraties and research facilities
Advantages at a glance:
High-resolution color display
Innovative and user-friendly measurements
Automatic recognition of the base material
Automatic setting of the required measurement mode
Data storage for up to 100,000 values with name, date and time and up to 1,000 individual calibration
Online-statistics of all common parameters
Data transfer via USB 2.0 und Bluetooth 4.0
Intuative user guidance – multi language menus
Scan-mode for continuous measurements
Optional plastic foot to 150 °C or 300 °C
Producer inspection certificate
2 year warranty
Measuring principle
Depending on probe; for information see our probe selection
Range
Depending on probe up to 30 mm
Accuracy
Depending on probe up to ± (0,7 µm + 1 % of measurement)
Resolution
0,1 µm or <0,2% of measurement
Display
High-resolution color display backlight
Calibration method
Factory-, zero-, foil-, two-foil-calibration
Offset-function: add. or subtract. of a constant value
Statistics
Single and block value, selectable block size
Parameter: n, x¯ , s, Min, Max, Kvar, cp, cpk
Memory
100,000 values
Interface
Bluetooth 4.0, USB 2.0
Operating temperature
0 °C to + 60 °C
Surface temperatur
-15 °C to + 60 °C
Dimensions (device)
137 mm x 66 mm x 23 mm
Weight
205 g incl. batteries
Protection class
IP 52 (protected against dust and dripping water)
Warranty

2 years
.
---
---