---
SONOWALL S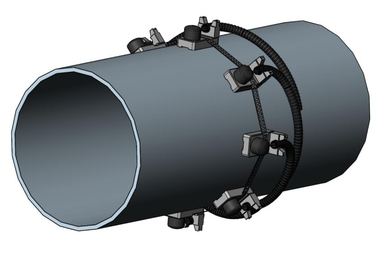 Pipes in industrial environments are generally exposed to typical signs of wear such as abrasion and corrosion, leading to a constant decrease of the wall thickness. To meet the high safety requirements in refineries, chemical plants and power stations, the wall thickness of pipes has to be checked regularly. The measurement points are often difficult to reach and super- structures or scaffoldings are necessary for the manual testing procedure. In addition, the pipe insulation has to be stripped off prior to every testing process.
Stationary wall thickness measurement
This generates significant costs for the plant operator. The installation of a stationary measuring solution could dramatically minimize these expenditures. Once the sensors are installed, the operator can easily access a ground level terminal box with a standard flaw detector such as the SONOSCREEN ST10 to check the respective wall thick- ness. The number of sensors usually depends on the pipe dia- meter and can be selected to the exact needs of the customer. The SONOWALL S is a smart and extremely reliable solution to efficiently perform frequent wall thickness inspections at pipes.
---
Secondary content
News

The YXLON UX20 system for x-ray and CT inspections of medium to large cast parts makes your inspection tasks as easy as never before. Its exceptional inspection envelope allows for 2D and 3D results in record time.
---