---
Surfix®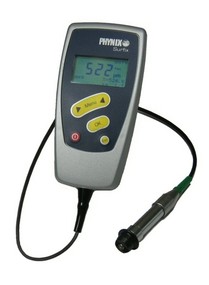 The Surfix® is ideal for speedy, non-destructive and exceptionally precise Coating Thickness Measurement measurement:
in paintshops and for electroplaters
for wet and powder coating operations
in the automobile/automobile parts industry
for incoming material inspection, during production and for final inspection procedures
in development engineering and expert assessment
in laboratory and field operations.
Compact and innovative in its design, the Surfix® features a clear overview of the operating menu with an easy-to-read display.Simply place the probe on a coated metal object for immediate non-destructive digital thickness measurement, unit-selectable in µm or mils.

The coating thickness gauge Surfix® is recommended for measurement of:
all non-magnetic coatings such as varnish, paint, enamel, chrome, copper, zinc etc, on steel and iron (magnetic-induction principle)
all electrically insulating coatings, such as lacquer, paint and anodising coatings on non-ferrous metals and stainless steel (eddy current principle)
The Surfix® is a compact, lightweight Coating Thickness Measurement gage for operators who require both innovative and user-friendly measuring techniques.
Menu in a choice of different languages ensures ease of operation.
The Surfix® ensures non-destructive Coating Thickness Measurement measurement on steel and non-ferrous metals.
The Surfix® automatically identifies the substrate and activates the appropriate measuring procedure.
No cables required; data in the memory can be transferred via an infrared interface for further processing.
The uniform contact pressure of the sensor is kept to a minimum, preventing scratches and indentations to sensitive surfaces.
Measuring range: 0 - 1500 µm / 60 mils
Statistical evaluation: number of readings, mean value, standard deviation, minimum and maximum reading.
---
---