---
Surfix® Pro S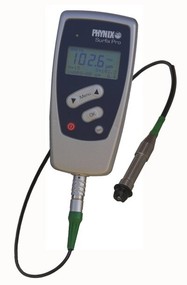 The coating thickness gauge Surfix® Pro S is used
in paintshops and for electroplaters
in the automobile industry and its supporting industry
for incoming material inspection, during production and for final inspection
in development engineering and expert assessments
in laboratory and field operation.
Innovative instrument technology
Measurements on steel and non-ferrous metal using one single gage
Automatic identification of the substrate
Different exchangeable probes for different tasks, measurement ranges and substrates
Automatic identification of the probe type used
Calibration-free measurements (calibration only in exceptional cases)
Mobile and stationary operation with only one single gage
Highly wear-resistant measuring poles made of carbide metal
Special probes for unusual measurement tasks e.g. probe F10 (0 - 10mm/0.4"), FN0.2 (highest precision) or probe FN1.5/90°(right angle probe).
Practical functions
Precise measurements on different geometries thanks to simple calibration methods
Safe use even for special applications such as sand-blasted surfaces, small accessories and curved surfaces
Scan mode for the quick recognition of Coating Thickness Measurement variations on large surfaces, including display of minimum and maximum readings
Display backlight for bad ambient lighting conditions
Optical confirmation of reading with blinking LED
Online statistics with all statistical parameters
Self-evident operating concept
Ease of operation, well-known from mobile phones
Intuitive menu guidance via dialog with the user
Free choice of language – German, English, French
---
---